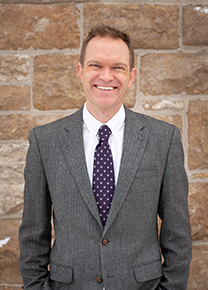 The Lawrence Children's Choir (LCC) Board of Directors has unanimously selected Gabe Lewis-O'Connor as the organization's next Artistic Director. Only the third individual to hold this position in LCC's three-decade history, he will build upon the incredible foundation established by Janeal Krehbiel and Carolyn Welch.
Gabe balances a busy schedule as a professional soloist and choral performer, daily meditator, conductor, avid amateur woodworker, father and husband. Striving to bring humor, authenticity and emotion to all these passions is a lifelong pursuit. Prior to his masters and doctoral studies in conducting at the University of Missouri-Kansas City, Gabe sang for four years and toured internationally with the professional vocal ensemble Chanticleer, which crystalized his belief that relationships are the core of powerful music making. Gabe received a bachelor's degree in vocal performance from Lawrence University in Appleton, Wisconsin and hails from Lawrence, Kansas. His love of singing began in 1994 when he joined LCC, and realized you could make incredible music and have fun with friends at the same time. Gabe now lives in a 104 year-old house in Lawrence with his wife Lauren, their feisty son Eamon and fiery daughter Celia.
"Our board was fortunate to have conversations with a number of excellent candidates over the last couple of months which speaks to the outstanding reputation of LCC," said current Board President Derek Kwan. "Gabe distinguished himself due to his remarkable experience, inspiring vision and demonstrated ability to connect with current LCC students, parents and supporters. The icing on the cake is that Gabe is an alum of LCC, and this will undoubtedly serve him well as he leads the organization's evolution."
"I sang for three years with LCC, learning the discipline, cooperation, attention to detail, personal accountability, professionalism and creative freedom that I still use today," said Gabe. "Amazingly, the skills, challenges and rewards I learned in LCC as a youth were the same ones present in Chanticleer and have also served me through my graduate studies, as I have learned how to communicate my musical vision and share my musical fortune with others. I am honored and humbled to step into this role, and look forward to the years of partnership, music, and community ahead."
Statement from outgoing LCC Artistic Director Carolyn Welch:
"LCC alumnus Gabe Lewis-O'Connor combines a truly exceptional background in choral music with a gentle, kind heart. He has a stellar work ethic, deep ties to Lawrence and is a person of utmost integrity. I am excited for this new chapter in the life of the Lawrence Children's Choir, and so pleased to welcome Gabe as the incoming Artistic Director."
Statement from LCC Founding Artistic Director Janeal Krehbiel:
"In 1994, a lanky 12 year old lad was thrust into a choir at South Junior High, a new 7th grader. A choir teacher who happened to be the artistic director of the newly formed Lawrence Children's Choir heard a nice sound and saw a cooperative spirit and told him he needed to join this group. Having never sung before, or so he says, he, as a 7th grader came to 'scope out' the situation, and stayed until he aged out. That young man told me today that he was amazed that he could be a part of something that was so wholesome and beautiful while having so much fun with kids his age.
 As the founding director of this choir organization, I want to welcome Gabe and extend my best wishes to all the children that will have the privilege of singing under his direction. The Lawrence Children's Choir is alive and in good hands. Spread the good news!"
Gabe will transition into the Artistic Director role this summer and will help lead an in-person celebration of Carolyn Welch and her legacy when public health circumstances allow for it.
LCC Board of Directors
Derek Kwan, President
Alison Langham, Vice President
Amy Finkeldei, Treasurer
Loree Cordova, M.D., Secretary
Jennifer Alderdice
Karen Blanton
Johannah Cox
Jessica Dunn
Tyler Epp
Mike Leitch
Jennifer Neuberger Talbott