Raffle Tickets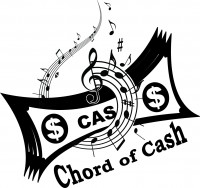 Do you feel lucky? Here is your chance to prove it!
Third Annual Chord of Cash Raffle
LCC's Third Annual Chord of Cash Raffle is a raffle whereby tickets are sold starting on Thursday, March 1, 2018 until Sunday April 8, 2018 at 12:00 am online and 2:00 pm at the door. Tickets are sold as one (1) for $10, three (3) for $20 and ten (10) for $50. The drawing for the winning raffle ticket number will be held at LCC's spring concert on April 8, 2018 at Liberty Memorial Central Middle School. The lucky winning ticket number holder will take home half of the cash proceeds, up to $5,000. The other half goes to the Lawrence Children's Choir. Winner does not need to be present to win. YOU could be the lucky winner! Buy your tickets NOW by filling out the form below or in person during rehearsal.