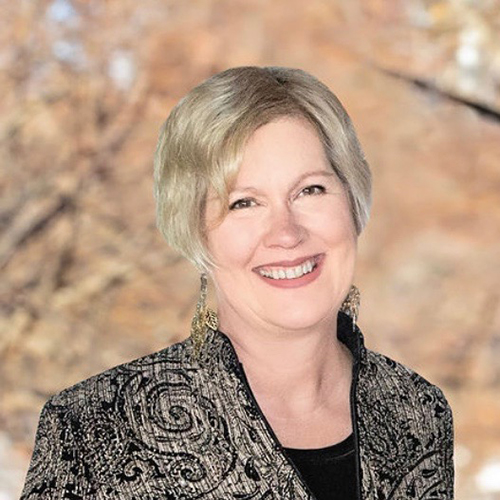 CAROLYN WELCH, Artistic Director of the Lawrence Children's Choir, has been an integral part of the LCC organization since moving to Kansas in 1996.  She became Artistic Director in 2012, overseeing the artistic life of the five-choir organization. She directs Choristers, Tour Choir, and Ambassador Choir. 
Carolyn holds Bachelor's and Master's degrees in Vocal Performance & Pedagogy from CU Boulder. She has taught private voice for many years and taught vocal and choral music from 1996-2013 for the Lawrence Public Schools. Carolyn has won several teaching awards and is the author of "Sing the Concepts," a set of songs for learning basic theory, and "Change One," a sight-reading curriculum. 
Active as a judge and clinician, Carolyn most recently served as the clinician for the Oregon Elementary All-State Choir and presented at the Oregon Music Educator's Conference, and directed the Middle School Treble Honor Choir for the Arkansas ACDA Summer Conference in Little Rock. She also serves as the Children's Choir Repertoire and Resources Co-Chair for the Southwest Division of the American Choral Directors Association and is on the board of the Kansas Choral Directors Association.
Recent collaborations under Carolyn's direction have included:
"Carmina Burana" with the Kansas City Symphony and Symphony Chorus, under the direction of conductor Ryan McAdams, March 2019. 

"The Play of Daniel" with Anne Azema and the Boston Camerata, January 2018 (part of the Kansas City Chamber Music Series).

"Modern Families" with the Heartland Men's Chorus (Kansas City, March 2015), featuring the premier of "The Weaver" by Jake Narverud, written for Men's and Children's Chorus.

"Simple Gifts" Concerts at the Lied Center in Lawrence, with Joyce Castle (2015) and Vanessa Thomas (2016).

Joint concerts with the Allegro Choirs of Kansas City (Boulder, CO, June 2015), Café Chorale (Costa Rica, 2016) and the Texas Children's Choir (San Antonio TX, June 2017).

KU's world premier performance of Symphony #5, "Freedom from Fear" by Kevin Walczyk (Kennedy Center, Washington DC), featuring Tour Choir member Ashton Rapp (April 2018).

"The Kansas Nutcracker" at the Lawrence Arts Center (December 2018).
Carolyn's husband Bryan is CEO of Mindful magazine. They live on a farm just outside Lawrence, KS, where they raise organic grass-fed cattle and sheep.